Installing the Zendesk to CRM 2015 or Dynamics 365 integration
These instruction have been updated from the Zendesk instructions provided here: https://support.zendesk.com/hc/en-us/articles/203660156-Zendesk-for-Microsoft-Dynamics-CRM-Part-1-Installing-the-Zendesk-for-Microsoft-Dynamics-CRM-as-a-module-in-Microsoft-Dynamics-CRM
They use a combination of the original processes that Zendesk have created originally for CRM 2011 and that worked on Pre SP1 versions of CRM 2013. The packages referenced have been update by InteractiveWebs to work with CRM 2013 Post SP1 and CRM 2015 (technically all versions but we recommend post SP 0.1)
Instillation of the CRM Solution
Install the CRM Managed Solution as you would any other CRM solution.
Download the managed solution for CRM 2015 https://www.dropbox.com/s/0rhlgnxcwz9s4yh/ZendeskDynamicsCRMConnector_2_0_0_2_managed.zip?dl=0
In CRM Navigate to SETTINGS / SOLUTIONS
Click on Import
Chose File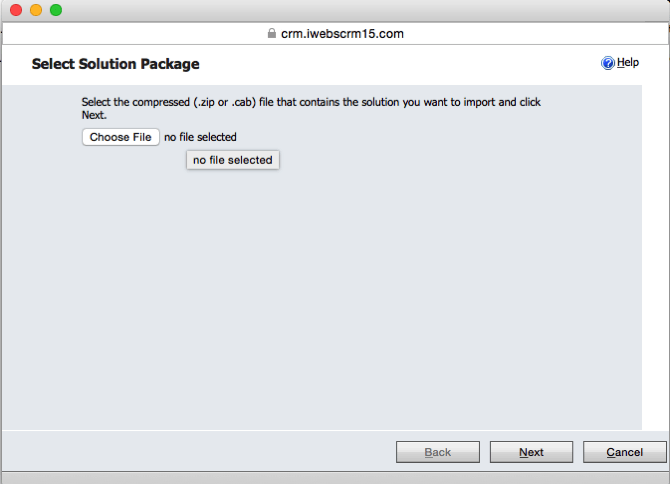 Select the Managed CRM package – Click Next

Click Next
Leave the Enable any SDK ticked, and click on Import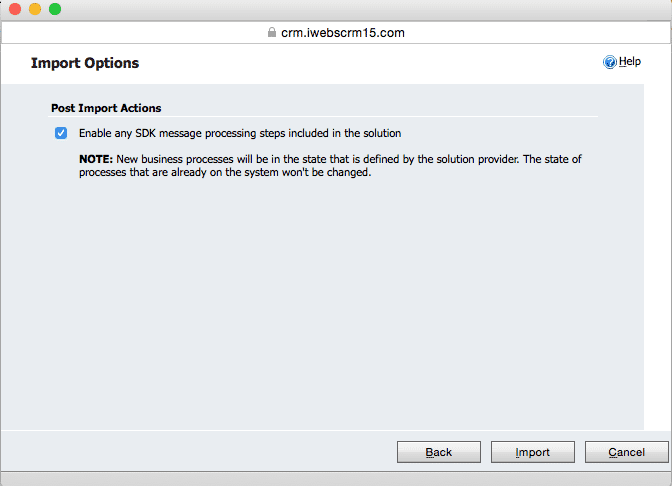 Allow the Import to take place
Click on Close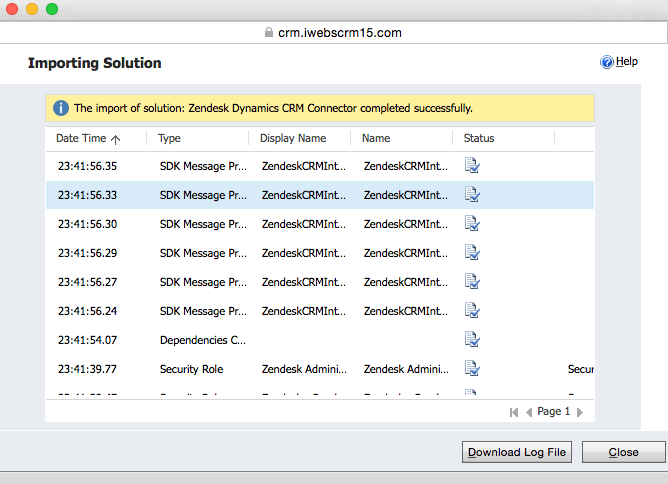 On Completion, Click "Publish All Customisations".

Update Security Roles
In the CRM menu, select Settings / Security

Select the User that you wish to use to bring in Zendesk Integration Items. We are using in this example the Administrator account, but it could be anyones account.
Then with the account loaded, select the additional item dropdown menu to the far right of the top level menu, selecting Manage Roles
Select Zendesk Administrator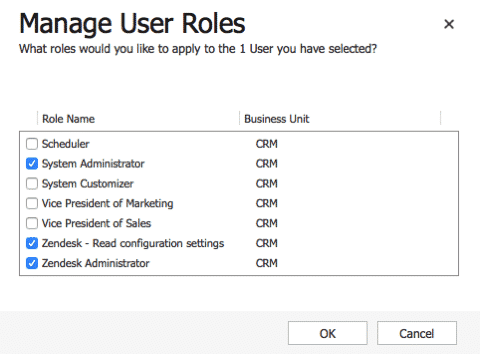 There is also a Zendesk Read configuration setting. The Zendesk support site has details on how this can be used.

Double Click on that name to load the account.
Configure Entity Mapping
In your browser, click on Refresh to reload the CRM page, and in turn the top level menu that has been updated after import for the Zendesk Solution.
In the CRM system, select Settings / Zen Entity Mappings

Click + New
The most typical setups are things like on a "Contact" entity, match the Zendesk ticket requester with the email address on the "Contact" record. But what if you wanted to match of the "Full Name" field instead in both systems?  Now you can by utilizing entity mappings.
Select the following items



Entity Name – This is the Microsoft Dynamics entity that you want the mapping applied to.
Zendesk Object – This is where you can select which object from Zendesk you'd like to pick your field from.
Zendesk Field – This will populate with values depending on your selection from Zendesk Object.
Entity Field – This is a list of fields associated to the selected Entity Name.  Pick which field you want to match to the Zendesk Field.Click "Save" to store the mapping. 

Click the ZD Entity Mapping tile to return to the page. 
Repeat steps 1-5 if you wish to add more mappings for additional Entities..
Here's a list of the most common types of mappings:
Account/Organization Entity

Entity Name: "Account" or "Organization"
Zendesk Object: Organization
Zendesk Field: Name
Entity Field: Account Name
Contact/Lead Entity

Entity Name: "Contact" or "Lead"
Zendesk Object: User
Zendesk Field: EmailAddress
Entity Field: EmailAddress 1
Configure Zendesk Settings Page
In CRM Navigate to Settings / ZD Settings (Note that this one is not the ZD Personal Settings Menu Item).
NOTE – This works best in Chrome – We found troubles with IE and Safari (not our work)!

You now need to set up your Zendesk credentials so that the system can authenticate to the appropriate Zendesk instance.
To do so, navigate to Settings, then locate the Zendesk Settings->Settings title and click the title.
You will be presented with 4 sections:
Ticket view defaults  – global default settings for ticket views in the Zendesk ticket panel. 
This sets the defaults at the account level, but can be overwritten by individual preferences by each user.
Filtering – sets the default values for filters in the Zendesk ticket panel.
Sorting – sets the default sort order for tickets in the Zendesk ticket panel.
Authentication – enter your Zendesk subdomain (make sure you specify HTTP vs. HTTPS if you have SSL enabled) and login credentials (you need administrator credentials). 
This gives your Microsoft Dynamics CRM users read-only access to available tickets. To create or edit tickets from Microsoft Dynamics CRM, your Dynamics users must have a Zendesk license, and they will need to enter their own credentials (explained later in this article).  
Mapped record types – enables you to modify the data elements that display in a Zendesk user profile when a ticket is loaded. 
You can choose from Lead, Contact, and Account. All fields are available, including custom fields.
Ticket-to-case mapping – identifies data items that should be mapped from standard Zendesk ticket fields into Microsoft Dynamics CRM cases. 
The three Zendesk fields that are supported are Status, Priority, and Type.
Add Zendesk Ticket Grid
Now you are ready to add the Zendesk ticketing panel to any of the entity pages that you've configured mappings for. You need to repeat the steps below for each entity type you want the ticketing grid displayed on.
In Microsoft Dynamics, navigate to the first entity where you want to add the ticketing grid. 
For this example, we'll refer to a Contact record.
Select any contact in your list and navigate to the Form Editor.
In Dynamics 2015, highlight the More (…) tab(1) and select the option for Form(2) to start the form editor.
In Dynamics 2011, navigate to the Customize (1) tab and click on Form (2)
In the Form Editor, click the Insert tab (1), then click the Web Resource button (2).
In the Add Web Resource page, click the magnifying glass next to Web resource to find the Zendesk ticket grid (zd_/Pages/TicketGrid/TicketGrid.html).
In the next page, select the check box next to zd_/Pages/TicketGrid/TicketGrid.html, then click OK.
Back in the Add Web Resource dialog box you should see zd_/Pages/TicketGrid/TicketGrid.html in the Web resource field. Enter a Name and Label you can easily recognize (consider naming it Zendesk Ticket Panel). Check the box for Pass record object-type code and unique identifier as parameters.  

Click OK. 
ou now have a Zendesk ticket panel in the form layout that you can drag anywhere you'd like on the page. You can even create a special subsection for it if you'd like.
After you place the panel, navigate to the Home tab, click Save, then click Publish. 
Refresh the contact page you had open and you should see the new Zendesk ticket panel where you placed it!  
 Repeat these steps for any other entities you have created mappings for.
Configuring InteractiiveWebs Zendesk to CRM 2015 or Dynamics 365 Web Service
Next you need to enable your CRM instance to use the InteractiveWebs Web Service that will connect Zendesk to your CRM instance either in the cloud, IFD or on premises.
If you have an IFD instance or a Microsoft Hosted Cloud
instance of CRM then go here: http://www.interactivewebs.com/Admin/Zendesk/tabid/3566/Default.aspx
If you have never registered with InteractieWebs then click on "Subscribe Now"
Fill in the form with the following details.
Username: Select a user name to use with our website.
Password: Select a password to use on our website
Email: Be sure to use a valid email address. We will not share or spam you, but for services we need this to be accurate.
First Name: Your First Name
Last Name: Your Last Name
CRM Address: This is the address of your CRM server in the following format: e.g.. https://contoso.hostedcrm.com:444/  You type "contoso.hostedcrm.com" (without the  " " ).
CRM Organization: You administrator can help with this, but in the example above it is "contoso" and is usually the word before the domain of your hosting environment.
You can contact us on the help link at the bottom of the page if you are not sure what you should type here.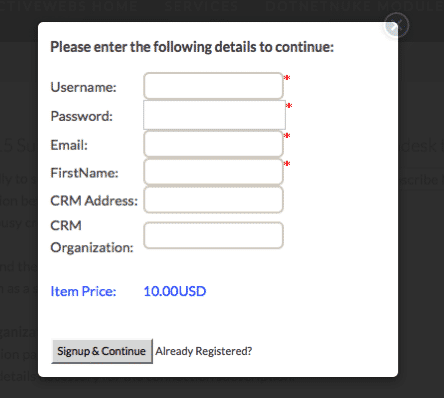 If you have an on premises CRM solution
you will need a custom version of the web service to host on your own servers. Contact us at our website: http://www.interactivewebs.com/ContactUs/tabid/55/Default.aspx
and advise that you are after a custom web service for Zendesk to CRM 2015 integration. Advise us of:
1. The URL you use to access your CRM internally.
2. The Organisation name you use in CRM.
We can then provide you with a custom web service for $200 one off fee with no expiry date on the web service.
Zendesk Setup – Display of CRM Data
It is possible to display the user data from Microsoft CRM in the Zendesk tickets. To do this:
1. In Zendesk select Admin
2. Select Apps / Market Place and search the words – "Microsoft Dynamics"
3. Install the App – Microsoft Dynamics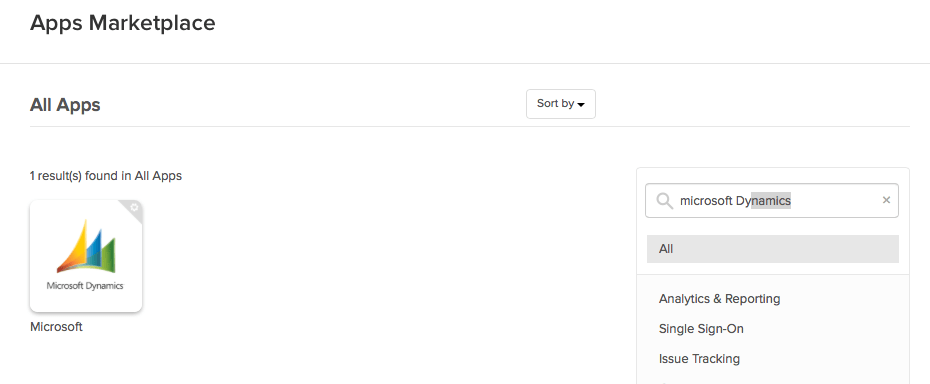 Under Manage – you should see the app installed:
Installing this will allow you to select the "User Data Lookup" Feature that is explained in the next section below.
 – Found in the Extensions / CRM in Zendesk.
Setup Zendesk
Settings
Now you will need to set up the Zendesk side of the integration.
To do this, you login to your Zendesk interface and Admin / Extensions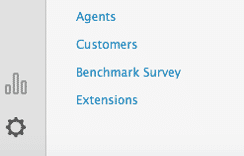 In Extensions you select CRM
Select Microsoft Dynamics CRM 2011 (For all versions of CRM including Dynamics 365)

Select your hosting type
If you have IFD or Microsoft Cloud Hosted Solution, select Cloud or IFD respectively
FOR CRM versions before Dynamics 365 (up to CRM 2016 pre SP1)
For the Web Service (having subscribed to the service) put in:
https://zendesk.interactivewebs.com  (note that this will only work if you have subscribed)

For Dynamics 365 (or CRM versions after CRM 2016 SP1)
Because the SDK was updated for Dynamics 365 we have created a web service URL unique for later versions of Dynamics 365. Use the
URL: https://zendesk365.interactivewebs.com (note that this will only work if you have subscribed)
If you have an on-premise then select that and put in the URL of your web service that was supplied to you after contact InteractiveWebs for a custom solution.
All the other data for that page is per the instructions and help provided by Zendesk in their help pages found here: 
https://support.zendesk.com/hc/en-us/articles/203660186-Zendesk-for-Microsoft-Dynamics-CRM-Part-3-Setting-up-the-Zendesk-App-and-Ticket-to-Case
Support
If you have problems or questions, please feel free to contact us at: http://www.interactivewebs.com – We have a range of other integration products, including website to CRM integrations for forms, billing, kb, support and more.