Error
While working in Expression Blend 3 we found on one of our work computers we could not run the project from blend.
We were on a Windows Vista and later Windows 7 box, and found that running the project would just return a message like: "Page cannot be displayed" or similar.
Research showed that this was cause by the little application that hosts the local website that runs the project being blocked by an update to Window Defender and Forefront Security. This update mad a modification to the "hosts" file.
The Fix
Open this file: C:WindowsSystem32driversetchosts in Notepad, and add the following entry:
127.0.0.1       localhost
Making it look something like this: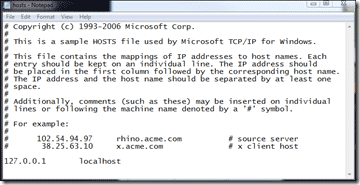 A subsequent signature update to both Windows Defender and and Forefront Client Security, released on the same day as the earlier update, should not cause this problem. Gotta love that!