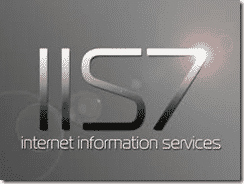 Moving from one IIS 7.0 server to IIS 7.5 is relatively easy and there are a number of tools that can assist you. Probably the best is the Web Deploy tool mentioned here:
This tool can allow you to package up and migrate the entire web sites, including configuration and database files etc.
Because our IIS 7 server is almost dead, it prevented us from configuring the tool. The install files see .Net 2.0 as required, and although it was installed we were unable to get the server to see it as installed. Anyway we tried all sorts of things, and finally gave up. (Good opportunity to rag on Microsoft, but we will leave that alone).
So now we find a need to migrate without the good tools.
Migration
We shared the IIS root folder on the source server. Then pulled all the folders containing websites across from that server to the same location on the new server.
In IIS manager, you need to export the config from the already-configured server. In IIS manager, click the Server node, and go to Shared Configuration under Management.

We then clicked to Export – on the right.
Enter the path you'd like to export the config to, and set an encryption key password: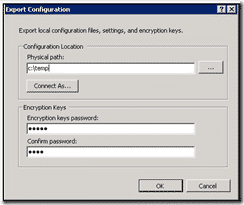 Note: One thing here that is a real BITCH is that they make you select a pass that is so complex you absolutely have to write it down. We never suggest writing down passwords but they are out of control in what they make you do with this.
Copy administration.config, applicationHost.config, and configEncKey.key to your new server to a temp location.
On the new server, go back to the "Shared Configuration" section and check "Enable shared configuration." Enter the location in physical path and click "Apply." It should prompt for the encryption password that you had set. Enter it, and reset IIS.
After resetting IIS (command prompt "iisreset"), go back to Shared Configuration and uncheck "Enable shared configuration." Click apply. You should see this: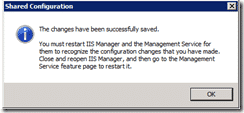 Click YES and it will import all of the settings from your Shared Config into the local config on your new IIS server.
At this point, all you should need to do is change your server-specific site bindings, and it should be good to go.
Bindings
How to add binding information to a site
Open Internet Information Services (IIS) Manager:

If you are using Windows Server 2008 or Windows Server 2008 R2:

On the taskbar, click Start, point to Administrative Tools, and then clickInternet Information Services (IIS) Manager.

If you are using Windows Vista or Windows 7:

On the taskbar, click Start, and then click Control Panel.
Double-click Administrative Tools, and then double-click Internet Information Services (IIS) Manager.

In the Connections pane, expand the server name, expand Sites, and then click the Web site on which you want to configure the bindings.
In the Actions pane, click Bindings…
In the Site Bindings dialog box, click Add..
5. In the Add Site Binding dialog box, add the binding information, and then click OK.