CRM 2011 Email Router Problems–She's a Fickle Bitch
Since we published an extensive set of step by step instructions on how to setup CRM 2011 as an Internet Facing Deployment IFD.
We have continued on to find a few issues with the Email Router Tool that are probably worth sharing.
The Tool Does Not Connect to Exchange 2010 like the CRM 4.0 tool.
We had a previous test environment that included CRM 4.0 and the well patched Email Router Tool. It was talking nicely to Exchange Server 2010 using the Exchange Web Service URL: https://server.domain.com/EWS/Exchange.asmx
In our instance the HTTPS was configured with an service signed certificate that was a trusted provider. In other words. We purchase an expensive certificate and used that for testing a real world deployment. No self signed junk.
That all hummed nicely, but we find that in CRM 2011, the Email Router Incoming Settings, using the same settings are worked in 4.0 fails.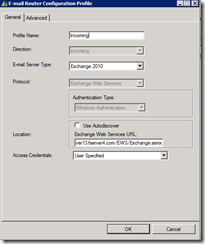 Name: FirstName Last Name
Incoming Status: Failure – No results were found.



Note: It is worth noting that after you import an Organization into CRM 2011 from CRM 4.0 that all the user credentials in each users CRM E-mail setting for user defined access: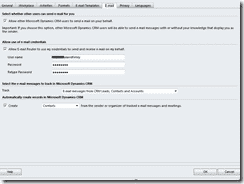 have the wrong passwords. They need to be reset.

We have not fixed this yet!
Try as we may, and generally we know what we are doing with this stuff, we have not as yet found a solution. We tried heaps of things, from opening up Non SSL access to the Exchange Server to running REG EDITS on the CRM server. Nothing as yet!
We can verify that the URL can be hit from the CRM server (Where the Email Router Resides) and that the return of information is the same as it was for CRM 4.0 Email Router.
We also have verified that the Error Changes once user pass words are made invalid.
Incoming Status: Failure – The remote Microsoft Exchange e-mail server returned the error "(401) Unauthorized". Verify that you have permission to connect to the mailbox. The request failed with HTTP status 401: Unauthorized.

Indicating that it is authenticating correctly.
We have deployed Rollup 2 at this time, and really are starting to think it is a bug. So we are about to get the BIG Microsoft Involved with a support ticket. Will let you know how that works out.

One Big Problem
We did not think a lot of the issue, and left our test Environment sitting doing a few things that included a DotNetNuke integration that was running some automatic billing processes from web service calls into CRM. This generated email messages in CRM that needed to be sent, and naturally the email router would have sorted that.
Again, we thought nothing of that.
We also noted that huge amounts of memory were being allocated toward the CRM test server in Hyper-V. Like 12-14 GB. That that was high, being that it was a SQL server and website in essence. Memory sits nicely at around 3-4 GB if things are working well.
What we have since discovered is that with the invalid inbound CRM – Exchange access, the CRM Email Router service consumed huge amounts of memory (Over 48 GB if allowed), and also bogged down process time to the point that nothing else ran on the server.
She's a Fickle Bitch! and obviously there is a memory leak of epic proportions there some place.
The solution, was to remove the invalid Inbound Rule while we sort out what the heck is going on with the program.
Stay Tuned….
UPDATE
After much mucking around, we found our problem.
In our instance the Default Global Address List had us listed, but our mailbox was tied to another custom address list, that was not listing our address correctly due to a typo. The access to the GA was being blocked by custom security settings.
This comes back to the same post above. Although nothing to do with the check box about  "Hide from Exchange address lists" – we were in effect being hidden from the address list that mattered.