Opencart Cart Version 1.5.3.1
We have been using opencart Version 1.5.3.1 with a custom template or skin. We found that the skin had some coding that stepped users through the "cart" step of the checkout, directly to the checkout process.
The stops the "voucher or coupon" step being available to the end user during checkout. (Unless they had more than one item in their cart).
The problem appears to be that the template is using the code:
<a href="<?php echo $checkout; ?>"
rather than:
<a href="<?php echo $cart; ?>"
You see the difference is the word "checkout" vs "cart" in this string.
This means that when you click on the:

icon for checkout, you are directed to:
domain.com/index.php?route=checkout/checkout
where you need to go to get the coupon option is:
domain.com/index.php?route=checkout/cart
Things to check first
1. Ensure you have added coupon codes!
The first obvious check is to ensure you have added voucher (discount) codes to your storethrough OpenCart's administration panel, in Sales > Coupons.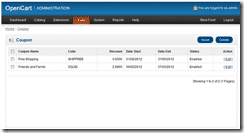 2. Ensure Coupons are enabled in OpenCart
Next, we need to check the coupons feature is enabled in OpenCart. In OpenCart 1.5+, this is located in the Extensions > Order Totals menu in the administration panel. Make sure that the Coupons feature is enabled (it should be by default).

3. The Fix
Use a program that will search all files in your website structure looking for the phrase:
<a href="<?php echo $checkout; ?>"
and replace it with
<a href="<?php echo $cart; ?>"
What you will probably find is an error when you then try to proceed from the "Cart" to the correct "Checkout"
We found that the find and replace we did, broke the actual button found here:

But the good news was that the fix is really easy.
If you hover on that link / button you will find that the error message appears that says something like: Undefined Error in (and lists the file) and the line number.
Just open that file, find the correct line number, and replace the word "cart" with "checkout" in that once instance.
The net result being that you are changing all but one of the instance of the <a href="<?php echo $checkout; ?>" string.