Should I load windows 8? This is the question that many people are going to be asking themselves over the next year or two. So I though I would throw my opinion into the mix for those who value it.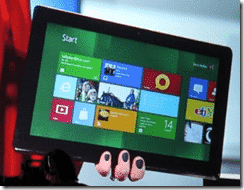 Windows 8 is an interesting beast
It gets really easy as I get older and the Blamer years draw to a close, to actively dislike most of the innovations coming from Microsoft. You can only feel sorry for them really as peoples user experience with other technologies makes consumers realise what a mediocre user experience the Windows years have been.
Mean time, Microsoft have woken up to several facts that clearly have influenced the Windows 8 product.
1. People like the new technologies like iPads, iPhones and Android devices.
2. People like the new experience they have with company relationships with Apple, Google, Amazon, where they can single click and purchase information, apps and media super easily.
3. The alternatives to Windows are a LOT better then they used to be.
4. Microsoft has been dragging the chain with User Experience it's entire life!

So knowing and understanding this, it becomes clearer as to what Windows 8 is trying to be.
Simply, they are trying to close the gaps that Windows has to the multitude of great User Experiences to be found on other devices and operating systems.
The Big Question is…. Does it do this?
The answer is essentially yes. Microsoft have come a huge way in delivering what is in effect a lobotomised Windows user experience. It's probably relevant that we introduce an understanding of what I mean by this.
I have some 20 something years experience in the aviation industry, and in that industry I have experienced moving from some of the oldest (steam driven) equipment to the newest and most advanced and computerised aircraft in the air today. Moving from flying the Classic 747 to the Airbus A380.
The old office (Boeing 747 Classic)



In the new office (Airbus A380 at Night over India)


The distinction here is apparent and startling, but the differences as an aviator are less apparent.
I'll give you one User Experience difference that may help to draw the highlight between these two technologies.
Stall Speed.
The Stall Speed, without getting into too much technical details is the speed of an aircraft below which sustained lift is no longer generated sufficiently enough by the wings that the aircraft can continue to fly. (Not technically correct but you get the idea). Flying too slow = Bad. This is due to a whole bunch of complex interacting aerodynamics like, Angel of Attach, G force, Angle of Bank, Weight, Air Density, centre of gravity, Flap / Slat configuration… just to name a few.
As a pilot of a 747, you are well aware of your stall speed as a figure bug and mark on your speed dial.
As a pilot of an A380, you look at what the computer tells you is the slowest speed that it will let you fly the aircraft at. You know from your past experience that it has a direct relationship to stall speed, but there are literally too many variables taken into account that you could actually know what the figure is going to be. But you don't need too, the computer tells you, and like some "Lobotomised" version of your former self, you believe the computer.
Hence the term "Lobotomised Windows User Experience".
Makers of great operating systems no longer want you to understand file systems, gigabytes, hard disks, etc. They want you to behave as a lobotomised users and think in terms of:
Share this
Work Offline
Synchronized
Just simple, dumb end user experience stuff, and frankly this is a long login overdue approach.
"Why should my mum have to know what hard disk to save something too."
Windows 8 is the first big step in this direction from Microsoft, and it really is intending a big change from the end users who engage it.
It tries really hard to get you to engage it in simple ways to do simple bug fun things. The more common things that most users do.
So Should I load Windows 8?
If you are a power user, who smashes out a bunch of work from an existing multiple monitor, multiple program high speed connected computer. Definitely Not.
If you are a system admin, or programmer, or IT Professional. – Definitely Not
If you rely on mission critical work that has been working well for you to date – Definitely Not
If you enjoy steeling programs, games, loading programs, installing and tinkering (script kiddy) – Definitely Not
So Who Should Load Windows 8?
Anyone listed above who buys a new surface or purposed laptop or tablet, and…
Everyone Else
Any End Users who can sit back from the past, say I am ready for a new experience, and let Windows 8 run as it was intended. With the "hood down". Just let yourself be a user, not an admin. Have a quick Lobotomy!

I will be running Windows 8 on purpose devices. Probably a Surface and or other tablets. I will also have a virtual machine of it on my Mac to play with when the need arises to test and play.
I fully expect to enjoy the experience when on the purposed devices, and I am dead certain that I will never use a Windows 8 environment as a Power User Machine, I also have no intention of being a Windows 8 expert, of ever running it as a network administrator, or being the IT "go to" guy" for friends and colleagues.
I love being a Lobotomised User with OSX. I just flip the lid on my Mac Air, and smash away at apps and light weight work. A surface windows 8 environment would be interchangeable here.

Will Windows 8 Succeed?
Yes and No.
Yes Microsoft have dealt a hand that will keep them relevant and in business until the end of the Balmer years.
No it was not a great hand. It's 5 years too late, and playing catch up to a far superior user experience over at Apple, plus they have kind of boobed up the mashing of light weight devices and desktops.
But it was they only hand they had to play with so it is here to stay.
Hopefully it will be the beginning of a new approach to Microsoft's world. One where stuff just works like it should, and without any technical "object not set to an instance of an object".
Lets hope for the end of The Blamer Years and an opportunity for someone with clear vision to have a crack with their massive resources.