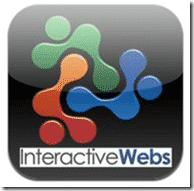 Today marks a big day for us at InteractiveWebs. We have had approved and released our version 2.0 update to our popular iPhone app "iWebs News".
What's New
The App has been totally rewritten by us, and now is released as a native Xcode iPad & iPhone app in one.
So if you have an iPad, and have previously seen our iWebs News app, then please check out the app on your iPad. It is a terrific experience.
Why is it a Big Deal for us?
Much of our focus over the last 8 months has been on enabling our team to produce rapid iPhone and iPad apps. In order to do this, we felt it necessary to develop a framework that we have called "Mushroom".
The release of this 2.0 update for iWebs News App marks the first release of any App by us that is built entirely on our new Mushroom Framework.
Naturally we are pleased that apple process approved the app first time around, as this means that all the hard work in testing and resolving any issues paid off.
What does it mean for us?
Actually it means quite a bit! Now we have the rapid deployment framework, that is a "Universal App" running on both iPhone and iPad, we are able to use and deploy the app on behalf of our customers and clients.
Because all of the code is ours, we can take the future development in any direction we like. We are really very excited to see the result, and see how well it performs.
Would you like your own iPhone / iPad App?
If you like what you see, and are interested in having your own business with an App like this, then please contact us to discuss your needs.