Display Templates
This is where you pick how your images will be shown on the page. The display templates define the end user look and feel.
There are several buttons that appear under the Display Templates Tab.

Load Template
Used to select a predefined or saved template. If you want a look like the Light Box effect, then you can click on the Light Box template from the available templates: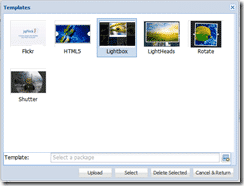 Then select the "Select" button.
This will cause the HTML and CSS for this template to be loaded into the "Display Template"
You can reveal the code for this by clicking the Source View from the HTML Editor.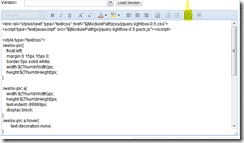 You can edit or improve the source code to match the colours you use on your site.
When you are done editing, you select the Save Tab Changes, or Save & Return to save the template and return to the page.
If you play around and don't wish to save, the Cancel & Return can be used to exit without saving your selection or changes.
Export Template
Allows a template to be packaged and saved as a .zip file. This file can the be used and imported on other sites using the Mushroom Image module.
This is perfect if you want to modify then export a template that you have customized for your own use.
The package includes a Thumbnail.png file that can be modified to reflect the look of your customized template. A Screen capture for example. Use the same dimensions as the example png file.
Naturally you can save a local copy of your favourite templates for used on sites that you create.
Import Template
Used to import templates that you have exported elsewhere. Selecting the Import, then locating your .zip package that you previously exported. Then uploading into the site for use.
Once imported, your template will become available across all portals on the site.
Save Template
If you modify a template and wish to save directly to the site for use as a custom template, then you can click the Save Template button.
We have included some icons to allow you to associate an eye catching icon with your custom version, or you can upload a screen capture to associated with the saved template.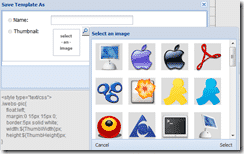 Versions
To assist you in "Undoing a Mistake" we have enabled versions of the templates. This way you can play with a template, and if you make a change that is for the worse, you can easily revert to an earlier version.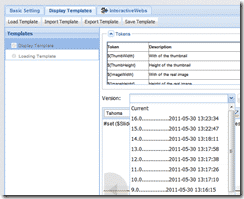 Great Hey!