Getting your site ready for Mushroom Image
Once you have installed the Mushroom Image module, you will need to ensure your site is ready to host jQuery. DotNetNuke makes this easy, but there is one small change we recommend first.
1. Login as Host
2. Go to HOST SETTINGS and locate the jQuery settings:

3. Tick the option for "Use Hosted jQuery Version"
4. In the Hosted jQuery URL, type: http://ajax.googleapis.com/ajax/libs/jquery/1/jquery.min.js
Background
DotNetNuke currently runs with jQuery version installed. That is to say that DNN have included some jQuery files that will sit on your web server and ensure that jQuery works on your site. The only problem is that at the time of writing this, the included jQuery version is not up to date enough to take advantage of some of the recent features of jQuery that Mushroom Image takes advantage of.
The Rotate Effect http://www.interactivewebs.com/mushroom-image/Demo/RotateEffect.aspx
uses a later version of jQuery than the one currently included in DNN that is 1.4.2.
Using the hosted jQuery option takes advantage of some open source Google hosted jQuery that is a later version than the 1.4.2. For our module, you currently need 1.4.3 or later.
Adding the module to a page
As with any DotNetNuke module, you need to add the module to the page before you can configure it.
Login to your DotNetNuke website as either a host or admin, and proceed to the module menu at the top of your website page.
Select "iwebs – MushroomImage" from the module list and "Add Module To Page"
Then look for the module in it's configured state.
From the dropdown menu, select the Configure Module option: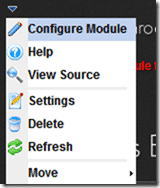 To reveal this: