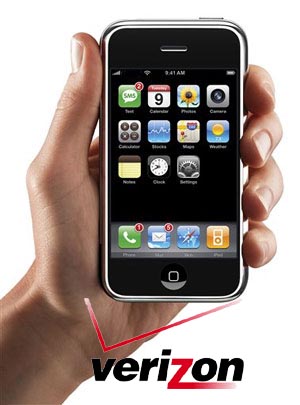 Today we're partnering with a giant of the industry…and that's Apple." As Verizon finally and officially announce the partnership between Apple and Verizon for the iPhone.
At a press conference in New York City today, Verizon said it will soon begin selling Apple's iPhone.
The device will be available on its network starting in early February, COO Lowell McAdam said. It's the same iPhone 4 that AT&T currently sells except that it connects to the CDMA network instead of GSM.
While Steve Jobs did not join McAdam on stage for the announcement, Apple COO Tim Cook did. He told the gathering of press that Apple is "very excited to bring the iPhone to Verizon's 93 million customers and new customers who want to use the iPhone 4 on Verizon."
Speculation that a Verizon iPhone announcement was coming today had been rampant following a press invitation from the carrier announcing a "news" event last Friday.
But rumors of such a device have been around for much longer than that. At the event this morning, McAdam said, "If the press writes something long enough and hard enough it comes true."
AT&T had an exclusive contract to carry the iPhone in the U.S. for what was initially reported to be five years, starting in 2007.
McAdam said the journey to bring the iPhone to Verizon began two years ago. In 2008 they talked about bringing an iPhone to the CDMA network and they designed and tested "to make sure it would come up to the standards of Verizon."
Sales are to begin Feb. 10 with pre-orders starting on Feb. 3.
Apple issued its press release at 11:11 a.m. on Jan. 11, 2011, or 1/11/11
Verizon Wireless & Apple Team Up to Deliver iPhone 4 on Verizon
BASKING RIDGE, New Jersey and CUPERTINO, California—January 11, 2011—Verizon Wireless and Apple® today announced that the iPhone® 4 will be available on the Verizon Wireless network beginning on Thursday, February 10. Qualified Verizon Wireless customers will be given the exclusive opportunity to pre-order iPhone 4 online on February 3, ahead of general availability.
iPhone 4 is the most innovative phone in the world, featuring Apple's stunning Retina™ display, the highest resolution display ever built into a phone resulting in super crisp text, images and video, and FaceTime®, which makes video calling a reality. iPhone 4 on Verizon Wireless will also include new Personal Hotspot capabilities allowing customers to use iPhone 4 to connect up to five Wi-Fi enabled devices.
"We are pleased to introduce millions of wireless users to the industry leading iPhone 4 on the nation's most reliable network," said Lowell McAdam, president and chief operating officer of Verizon. "This is an important step for the industry as two great companies join forces to give wireless customers one of the most important technological additions to the mobile landscape this century."
"Verizon Wireless customers have told us they can't wait to get their hands on iPhone 4, and we think they are going to love it," said Tim Cook, Apple's chief operating officer. "We have enormous respect for the company Verizon has built and the loyalty they have earned from their customers."
iPhone 4 features a 5 megapixel camera with LED flash, HD video recording, Apple's A4 chip, a 3-axis gyro and a beautiful glass and stainless steel design like no other mobile phone. iPhone 4 also comes with iOS 4, the world's most advanced mobile operating system, which includes multitasking, folders, Game Center, AirPlay® and AirPrint wireless printing. iPhone 4 customers have access to the world's most popular App Store℠ with more than 300,000 apps available in an incredible range of 20 categories, including games, business, news, sports, health and reference.
Pricing & Availability
iPhone 4 will be available on the Verizon Wireless network beginning Thursday, February 10 for a suggested retail price of $199.99 for the 16GB model and $299.99 for the 32GB model with a new two year customer agreement. iPhone 4 will be available at more than 2,000 Verizon Wireless Communications Stores nationwide, online at  www.verizonwireless.com/iphone, at Apple Retail Stores, at the Apple Store® (www.apple.com), at Apple Authorized Resellers, and by calling 1-800-2 JOIN IN.
(EDITOR'S NOTE: Media can access high-resolution images in the Verizon Wireless Multimedia Library at www.verizonwireless.com/multimedia.)
Verizon Wireless operates the nation's most reliable and largest wireless voice and 3G data network, serving more than 93 million customers. Headquartered in Basking Ridge, N.J., with 79,000 employees nationwide, Verizon Wireless is a joint venture of Verizon Communications (NYSE, NASDAQ: VZ) and Vodafone (LSE, NASDAQ: VOD). For more information, visit www.verizonwireless.com.
Apple designs Macs, the best personal computers in the world, along with OS X, iLife, iWork, and professional software. Apple leads the digital music revolution with its iPods and iTunes online store. Apple is reinventing the mobile phone with its revolutionary iPhone and App Store, and has recently introduced its magical iPad which is defining the future of mobile media and computing devices.
Press Contacts:
Brenda Boyd Raney
Verizon Wireless
brenda.raney@verizonwireless.com
(908) 559-7518
Natalie Kerris
Apple
nat@apple.com
(408) 974-6877