I asked this question of myself, knowing full well that the answer is a clear NO. But I suckered myself into thinking "I remember those glory days of waiting for every new MS software release".
So I did my research. Pretty much people are saying the same thing. It's potentially better than IE 8, but still not going to take on Chrome or Firefox, plus there are some bugs and headaches due your way.
As dumb as I am, I managed to talk myself into the upgrade, be seeing that this version should upgrade and downgrade with ease. In other words, when it all fails, I can uninstall.
So I did it…
You guessed it. First thing!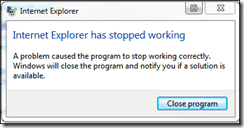 That was before the version was even completed for the install.
Then came…


So at this point I am wondering why Firefox and Chrome both update without rebooting my computer? How 2000 ish right?
So I reboot.
Next I noticed the Flash is no longer working. As I have the adobe suite installed, and their software updates have been working well on CSS 5. I tried to run that. IT found no updates.
Hit google to see what the story is… BANG. we are into the Microsoft world of pain.
Try removing flash completly. There is the flash uninstaller somewhere on the macromedia website. also remove the activex flash plugin if thats not removed by the uninstaller. Then restart(always best thing to do) and reinstall. Try googleing flash uninstaller. There is one for flash v 7 and v8 depeding on waht you have.
What? I just updated Firefox to version 4 without this sort of crap. Why is this such a pain.
So a little more research shows this:
Internet Explorer 9 seems to have a few issues as far as plugins, applets and third party software are concerned. In fact, a lot of users, after the release of the final Internet Explorer 9 version (IE9) report that Flash player doesn't work anymore (it has stopped working) on their Windows Vista and Windows 7. Actually, the issue seems to be affecting a lot of Windows 7 64 bit computers. This will prevent users to watch Flash videos (such YouTube videos for example) and play online games. Websites and blogs won't be displayed correctly, also. Such issue is not new to tell you the truth, as it has been reported on a lot of forums and threads in the past but Microsoft seems not to have resolved it properly. Here are a couple of temporary solutions that should be able to fix the Flash issue.
It might seems silly, but before going deeper about talking Flash fixes and blame Internet Explorer 9 about it, please make sure that you have installed the Flash plugin to your computer. You can download the latest Flash plugin (player) here. In case you still do not manage to watch Flash videos and see Flash websites correctly on Internet Explorer 9 (IE9), follow these easy steps:

Restart your computer.
Open Control Panel.
Open Internet Options.
Click the advanced tab.
Click the Reset button.
Tick the Delete Personal Settings checkbox and click reset again.
Open Internet Explorer 9 and try to watch a YouTube video
Na, Microsoft you must be dreaming if you think I am still interested in playing this game. Are you for real?
So I checked out the few things that I actually am forced to use IE for. Mostly Microsoft CRM. Found the speed was complete indistinguishable between IE 8 and IE 9.
Bang. New decision. Uninstall the mongrel.
Another Microsoft Fail.

– Additional Notes from a user:
Many users, including myself, have had trouble using the new Internet Explorer 9 beta because of a message that pops up when you start the browser stating that "Internet Explorer 9 has stopped working" in a continuous loop. There have been a few posts online on supposedly how to fix it by disabling an incompatible addon, but most users are saying this doesn't work. The problem actually seems to lie in some older Intel graphics cards, so the new GPU acceleration feature gets confused. To fix this error, follow these steps:
After you've installed IE9 beta, click the start button, go to the control panel, then click Network and Internet.
After you click that, click on Internet Options.
Click the Advanced tab, then checkmark 'Use software rendering instead of GPU rendering*' (screenshot below)
Open IE9 beta and problem solved!

shareshare