[gard]
Outlook hangs caused by PayPal messages template fault
In just the last few days, I have started experiencing some issues with Outlook when opening messages sent from PayPal.
This is happening with the recent versions of Outlook, including Outlook 2010 and Outlook 2007.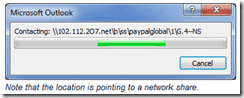 Some of the indications of the problem include.
Outlook taking longer than normal to open.
Outlook with "Reading Pane" on
Outlook Stops Responding when clicking on an email from PayPal.
If you wait a long time, it will come good, and even show the email message.
If you are impatient and cancel out of outlook, your reading pane is gone when you next open it.
When loading Outlook you receive a message about and address: Contacting: \\102.112.207.net\b\ss\paypalglobal\1\G.4-NS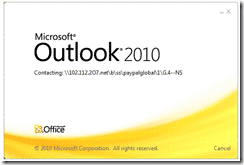 Background information
It appears that the cause of this is some malformed tracking cookies being sent from PayPal.
While it could be argued that Outlook should handle this invalid link much better than it does… We all know that Microsoft is responsible for Outlook, so really we should not expect too much in the way of "graceful error handling". (After 20+ years of Windows system events, they still don't have an online library of error codes and meanings.)
At the bottom of the message, there is a hidden tracking image. Instead of this image pointing to a web server, it is pointing to a non-existing network share. As it is pointing to a network share and not to a web server, Outlook's "Internet picture blocking" functionality doesn't kick in and tries to retrieve the content.
So what to do what to do?
First, I know for a fact that PayPal is aware of this issue, and while it is literally a 10 min fix for the right person, we know that finding the right person probably means contacting the dev team out of India that they hired last month, and asking them to fix their crap!
Oh I have been doing this too long!
Really… what to do!
Nothing… If you are patient when opening email messages from PayPal while this issue happens, then they will open.
Delete all recent messages from PayPal permanently form both your inbox and deleted items.
Turn off the reading pane in Outlook.
Turn your Outlook into plain text preview

Redirect the invalid call using a modification to hosts


---

Start Notepad as an administrator.
You can do this by right clicking on the Notepad shortcut in the Start Menu and choosing "Run as administrator". If you don't see this option, hold SHIFT while right clicking on it.
Choose File-> Open… and open the following file;
C:\Windows\System32\drivers\etc\hosts
Add the following line at the bottom.
127.0.0.1        102.112.2o7.net
Save the file and close Notepad.


4. Save the file.

This will basically route 2o7.net request back to your computer, which will reject it, allowing you to read your emails quickly and in peace once again.
This fix will work on 32/64 bit versions of both Vista and Win 7

---
If you still have a problem
In Microsoft Windows, use the command ipconfig /flushdns to flush the DNS resolver cache. Open the command prompt and type the following:
C:>ipconfig /flushdns
Windows IP Configuration
Successfully flushed the DNS Resolver Cache.


Corporate solution for all computer clients at once
If you are in a corporate network, your system administrators can fix this for everyone at once by adding a Forward Lookup Zone (Primary Zone) for the 102.112.2o7.net domain. Then add an A host record without a name and have it resolve to 127.0.0.1.
After PayPal fix the issue.
The invalid link when fixed will not fix messages already sent with the issue. So unless you permanently delete message with the problem, you will see the trouble each time outlook references them for reading. This is because the reference is totally invalid, not just temporarily down.