Problem
while accessing Windows 2003 server today I experienced a problem with the system reported to me: Your current security settings do not allow you to download files from this location.
And gave me the following error window and security alert: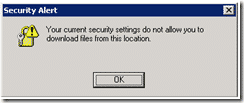 Knowing that Internet Explorer is too stupid to know that even though I have the username and password to connect to an FTP site , I don't have the necessary security permissions to download files from the FTP site. as dumb as this may seem it is the default security settings are Internet Explorer early versions.
The solution
In this case the solution is actually quite easy.
1. Open IE
2. Open Tools > Internet Options > Security
3. Click on Trusted Sites then the sites button below
4. Enter the URL of the site you're downloading from and click add