Much has been written about the DotNetNuke performance settings, and well frankly the is a lot of bad information running around the web about what all the settings mean and do.
I'm not about to jump into a discussion, but rather tell you what we believe are the best settings for a public facing website hosted from a Windows 2008 servers without a proxy.
First of all you will need to determine if the web server IIS settings have been configured to compress data servers from your site. This is easy.
1. Login as host and look in the Performance Settings for the "Compression Setting" and ensure it is turned off.

2. Then visit this site: http://www.seoconsultants.com/tools/compression 
Enter your URL of the website you are playing with, and check compression. The result will look like this, if your content is uncompressed.
or this if it is compressed.

Take not of this for later.
3. Go back to your site settings and set them to look like this: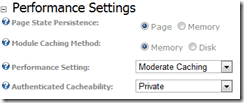 DNN 4x
DNN 5x
4. Depending on your compression test above set your site compression settings.
If you site reported: Uncompressed


If your site reported: Compressed (anyting)
The idea is that, if your IIS is already compressing content, you do not want your DNN compression settings on. It will only slow down performance, however if your IIS is not handling compression, you will find that performance is much improved with compression on.
Summary
These settings will give you good speed performance, but more importantly will not cause cache problems where users updated content but cannot see the changes that they have made. This is a big issued with CMS system that cache in the wrong way, and is a complaint of many DNN users.