DotNetNuke jQuery Problems
Recently there was an update to jQuery that caused some problems with DotNetNuke. The problems include:
Strange or missing popup effects in custom jQuery modules
Admin menu hiding the menu items on Standard DNN Dark Knight Skin
Modules using jQuery failing to function as desired
The Problem
The problem is associated with some bugs in the jQuery released and hosted googleapis. The bugs are not related to DotNetNuke directly but the jQuery used in many instances of jQuery.
The Solution
The solution is an easy one. You just need to login to your DotNetNuke website with a Host Account, and modify the jQuery settings under the HOST / ADVANCED SETTINGS to a more recent and bug free version of jQuery UI.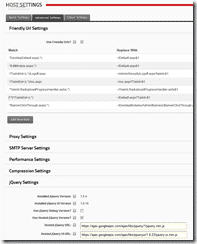 Pasting this URL: https://ajax.googleapis.com/ajax/libs/jqueryui/1.8.23/jquery-ui.min.js into the "Hosted jQuery UI URL" and ensuring the "Use Hosted jQuery Version" is ticked.