DotNetNuke 6x has a great looking default skin called DarkKnight, and the skin design has previously caused some layout issues with the Mushroom Light Module Templates.
To correct this, we have created two new templates that are designed specifically to work with the DarkKnight skin in DotNetNuke.
Called:
DarkKnight-Small
DarkKnight-Large
They produce the following results…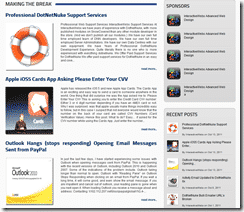 With the Large template being the content on the left, and the bottom right showing the content of the small template.
This makes the module perfect for use with DotNetNuke 6x our of the box.
How to Set the Templates
The templates are selected through the normal RSS Template Tab in the module.
1. Select Load Template Button
2. Select the appropriate template and press the select button.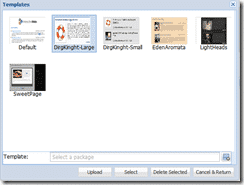 That will load the new templates and be ready to use on your site.