Recently we launched a new website called Network You. The site can be found at networkyou.org.
Of particular interest on the site is a new module or ours soon to be released to the DotNetNuke Community called Mushroom Video Module.
The module will feed Youtube Play Lists from youtube.com directly into your site in an easy to manage and easy to use video feed.
The end result of the feeds looks like this:
http://www.networkyou.org/Network/GlobalVillage.aspx
With the video feeds being selected directly from a play list selector button that referenced a YouTube account name.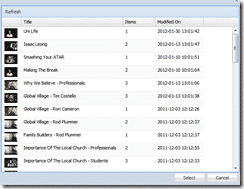 The module also uses the template system developed by InteractiveWebs for the display system that allows simple to load templates to be customized to the users requirements.
An example of the module with multiple feeds onto a single page is this one: http://www.networkyou.org/Network/Professionals/VideoTopics.aspx
We will be releasing the module to the public in the next few weeks. We would love to hear any comments!