We had a site with the Alive Media Player showing it's flash video on a page over the top of our DotNetNuke Tell My Friend Module.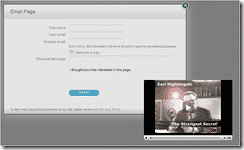 This is a typical error with flash when used on some browsers with Jquery. IE8 and the latest Firefox for example.
The solution is the set the flash layer into a transparent mode. In the Alive Module, they make this easy with a "Wmode" attribute setting.


Set it to transparent and you are good to go with InteractiveWebs Tell My Friend DotNetNuke Module.