We have improved the functionality in our Bulk Email module for dotnetnuke, to now allow the sorting of the stat view by the column headings.
Click the "Read Time" heading, and you will sort by read time. etc.
Additionally there is an option to export to excel.

This will allow the instant export of the campaign results into an excel spread sheet for later analysis.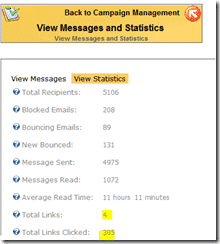 Under the view statics, we have added the tracking of link URL's used in the message, and a total for the number of links clicked.