We have release some great new features with our Advanced Login and Registration module for DotNetNuke.
The module can be downloaded from our site in a trial that works 100%. You can test and play with the module, then purchase from Snowcovered our our site if you wish to purchase.
The module allows for a fantastic user login and registration experience, with complete control over all aspects of the look and feel and the effectiveness.
We have completely redone the UI for the module: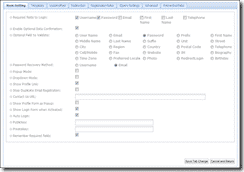 This helps make the complicated custom options really easy to understand, and helps users with the different modes of the module.
Additionally we have added new features that can be viewed here: https://interactivewebs.com.au/advancedlogin/Support/VersionHistory.aspx
Some of the new features include:
Custom Role Registration during Signup
Additional Questions / Answers during password retrieval
Custom form messages for during signup and login
Detection of duplication of user accounts during signup
UI Improvements mentioned above
Updates to the extensive user manual