The steps in setting up the Outlook Social Connector for DotNetNuke on your local computer.
The steps assume that you have installed the DNN website module by InteractiveWebs called the Outlook Social Connector.
1. Close Outlook
2. Start the MSI installer "Setup_DNNSocialConnector"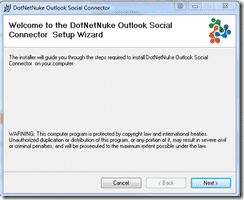 3. Select Next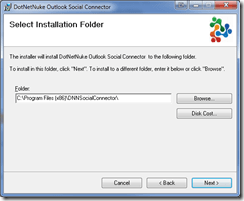 4. Use the default path, or select one, then select – Next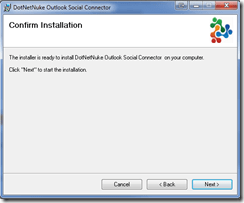 5. Select Next when ready to proceed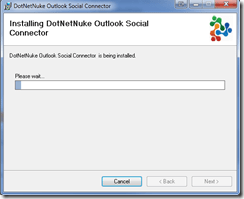 6. Wait a bit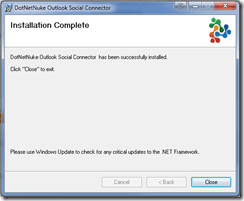 7. Select Close

8. Open Outlook and in the Mail view, find an email message and expand the view for the Social Connector.
9. Select the + symbol under the contact image, and select "on another social network" from the available list.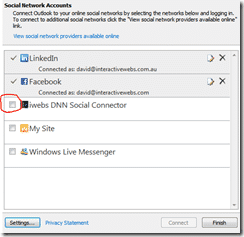 10. Select "iWebs – DNN Social Connector" from the available social connector plugins.
11. Fill in the connection settings for your DotNetNuke Website that has the iWebs – DNN Social Connector module installed. And admin or host account is needed. Click Connect

When you browse an email message from a user who is registered on your website, you will see the activity that they have taken on your site. This includes activity on security roles, DNN Forums Module, and if you have updated to our modified Documents Module, activity on that module too.