We have recently finished development of a rather special DNN module. What makes this particular DotNetNuke module different from the 23 existing publically released DotNetNuke Modules is the fact that this is heavily dependent on Silverlight and is integrating directly to Microsoft CRM from DotNetNuke to provide membership services.
We have done and continue to do advanced Silverlight developments into DotNetNuke Modules, having developed products like Silerlight Media Player, and Silverlight Video Library.
This latest dnn module however is really something that we are proud of.
Known as the Agfarm Membership Module the module functions in the following way:
1. Simple design interface, as was our clients instructions, but easy and clean to use with the Silverlgiht.
The system will hit directly onto Microsoft CRM for all information, and although in some cases the data returns are based on several hundreds of thousands of records, the return is fast. Within seconds.
In line editing of data in data grids is something we worked hard to deliver in the Silverlight data grid.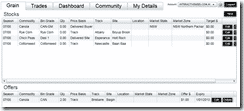 Pulling .pdf contracts that are attached into CRM as a note to an entity, we are able to reference multiple notes and return the .pdf to screen directly from the module.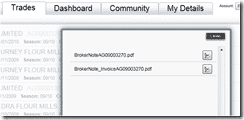 Dynamic Dashboard building to pull through hundreds of thousands of records to build a data grid that can be customized: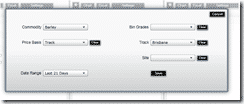 to then pull custom price history that can be charted: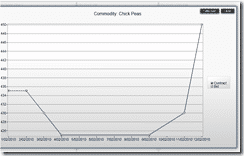 We have also developed a rating system to rate transactions that happen in CRM as custom contracts. A contract can the be rated in a similar way to an ebay contracts. (sale). With the predictive text lookup tool allowing  and individual to search for an organisation and see their average rating.
The modification of a users details includes the ability to automatically hide and show save and cancel buttons based on the original data, so for example.
If I update the UHF field from showing the number 1 to showing 12 the save can cancel buttons appear.

if I back space.

they are dropped.  It is the little attention to detail here that we are most happy with. Best of all however is the ability to run the application "out of Browser". With the entire application able to be installed to a desktop (including apple) and run as though it was an application.
We are so happy with this experience, that we are pushing devel
opment of Silverlight into all our DotNetNuke Modules in the future.