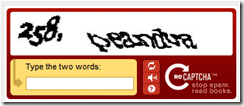 How to easily add recaptcha to your dotnetnuke website.  Easy… grab the latest version of Advanced Login module for DotNetNuke and you are on your way.
We have enabled recaptcha in DotNetNuke with this module, making it as easy as ever to use the feature in your website.
The advanced login module is available from our free dotnetnuke module download page.