Cleaning up the Event Log
On a system running the CRM 2011 IFD as described here: http://www.interactivewebs.com/blog/index.php/server-tips/microsoft-crm-2011-how-to-configure-ifd-hosted-setup/
You may notice in the Event Log some errors that look like:
The description for Event ID 17137 from source MSSQL$MICROSOFT##SSEE cannot be found. Either the component that raises this event is not installed on your local computer or the installation is corrupted. You can install or repair the component on the local computer.

If the event originated on another computer, the display information had to be saved with the event.

The following information was included with the event:

AdfsArtifactStore

The specified resource type cannot be found in the image file
The Solution
1) Open SQL server management studio.
2) Connect to \\.\pipe\MSSQL$MICROSOFT##SSEE\sql\query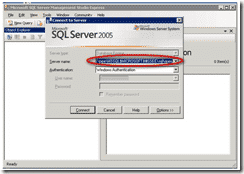 3) Right-click on the database AdfsArtifactStore and select "Properties"
4) Click on the Options page
5) Set "Auto close" to False