We have found an issue that would prevent the Google Analytics report module from rendering in certain websites under certain conditions.
The symptoms of the issue are that the module reports "invalid data" when you have configured the module settings.
If you experience this error messages, then the solution is easy…
Ensure you have a version of the module that is later than 45.06.02 – Available from our website as a download here: http://www.interactivewebs.com/DotNetNukeModules/ModuleDownloads.aspx
Then after updating, you need to check the option that says: "Render Chart from Control"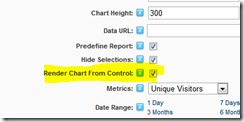 This should allow the chart to report past the Invalid data error.
The error relates to the DotNetNuke Alias redirection settings in the DNN Site Admin settings, and appears to be when a redirection has been defined in the settings.
If the redirection is turned to none, this should also fix the error.
Alternatively it appears to have been fixed in DotNeTNuke release 06.01.01. But who is to day that the issue will not creep into later releases of the module.